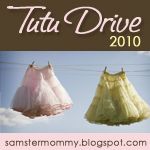 Hey their friends! Just wanted to send you to this site (CLICK ON PHOTO ABOVE) if you can help a fellow blogger reach (and exceed) her goal to make 100 Tutu's for a charity that gives kids with serious illness dress up clothes to bring a smile to their face. Its a sweet idea really--- Go check it out and get involved if you can. Beans and I will be making a few Tutu's to donate to the cause.

Thanks guys--- go back to your summer activities :P
See you in a few days with a new do.