This weeks hair do is my favorite! And it looks far more complicated than it actually is. This really is a simple hair do. So don't just navigate away from my blog off of difficulty level. This is actually easy. The first time I tried doing this though I actually tried the hard way of doing it and then realized how very easy this actually is. It is beautiful and fun and trust me you will have a lot of people asking how you did this! So lets get started...
Scared yet? Don't be.
I am going to first attempt to teach you how to do a French braid. I am going to be very honest with you now. When I was about 16 years old my brother ((YES--- No typo there...)) My BROTHER taught me how to braid. So I know for a fact that I can't just start this tutorial without first teaching you how to do a simple French braid. If you are new to French braids start with a simple right down the back braid and perfect it before you go on to doing piggy tail French braids. And that is how I am going to teach you also. To do braids down the side you do this same thing only part it down the middle and use the hair one one side for one braid and on the other for the other braid. But if you've never done a braid before in your life we can start here. Also I apparently do what's considered a backwards or inside out braid. It makes mine poke up. If you want the standard French braid when you add more hair to the braid go over the base strands. I will be going under. Here we go...
Part out your starting section. Because Beans hair is thin I do big rectangular shaped section here. If you have thick hair you may have more of a square shape parted out.
You will need to make three sections of hair for your braid.

Then you criss-cross them together and start braiding. ONLY one time just to get it started. Don't add any hair at this point.
Just stop at about this point. And you see the side that has two of the strands. Looking at the picture it is the RIGHT side. This is the side we will add more hair to first. To that outer strand.

Part out another section of the hair and add it to the out hair bundle like I said before. This is where your hands start getting all mixed up because this is a two hand job. I monkey fist the strands with the opposite hand I need to part with. That way they are in the right order. I don't really have much advice of how to keep track of them. It truly is just something you may have to practice a lot until you find your groove.
Then add the parted hair to the outer strand of hair and braid that into the base braid you started with.
Remember I tuck under and that is what gives it the three D look. For a normal braid you would go over top.
This is a perfect picture to show you where that parted hair when combined with the outer hair of your base braid WENT. It is that hair between my thumb and forefinger of my left hand. See it? And now there is a new outer strand. It's that one hiding in my left hand at the back. That will be where we add hair to this time.
So we part like before...
Add it to the outer base strand of our braid...
And tuck it under. New hair we are going to add to next is the outer hair in my right hand. And you keep doing that over and over again.
And over and over. I am going to stop at a half braid today.
and just continue to braid.
Bean's hair is getting really long. So I am still braiding....
And this is what you get. Practice this... And when you get a braid down you are ready to move on to this....
And I am not going to give you the tutorial on a double braid unless you absolutely need it. But basically you part down the middle and do two braids.
Remember when I said how very easy this hair style is! Here's the trick. And I will say that I tried to actually braid that ribbon into the hair the first time I tried this hair style. DUH!!! I don't have four hands and that is exactly what you would need to actually put the ribbon in while you braid. DUH! DUH! DUH!!!! Get a big eyed needle and ribbon. And I bet you could take it from here just knowing that was how I did that right! Well I'll show you anyways.
Start at the top. Yup--- This is just like lacing shoes.
Make your ribbon (laces) even.
And lace up one side all the way down. Just poke ribbon through the hair, not the head! Just kidding. I think that part goes with out saying. But do be careful!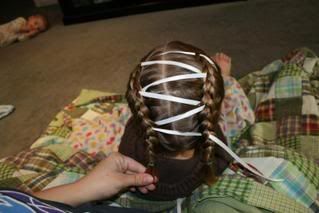 See one whole side is finished first.
Then you go back and do the other lace. You can experiment with how you finish this style off. I like to join them with a bow at the bottom.
**Also** Thanks to Andrew my dear sweet husband for taking the pictures of the braid part I couldn't do those pictures by myself. Haha!